One of Brian's Favorite Quotes
Nothing but water: No sign of Malaysian airliner despite hopeful lead
(CNN) — Two weeks. Two gut-wrenching, frustrating, mysterious weeks.
That's how long it's been since 239 people boarded Malaysia Airlines Flight 370, destined for Beijing. It was a routine trip — or so it seemed.
Where they got to, still unknown. An exhaustive search — covering 2.97 million square miles — nearly the size of the continental United States — has yielded some clues, but no proof of where the Boeing 777 is or what happened to it.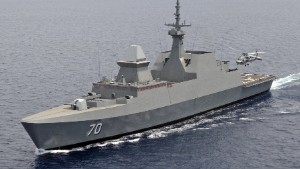 The search for Flight 370 by the numbers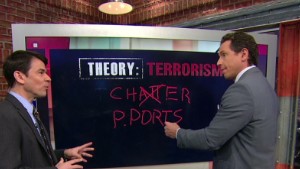 Here are the theories surrounding MH370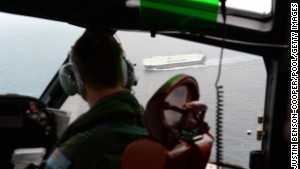 Perth commander: 'Search is going well'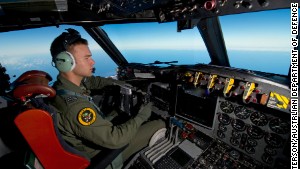 Demo: Satellite searches for debris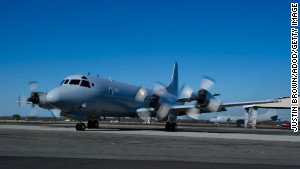 'Gonna have to go out there and look'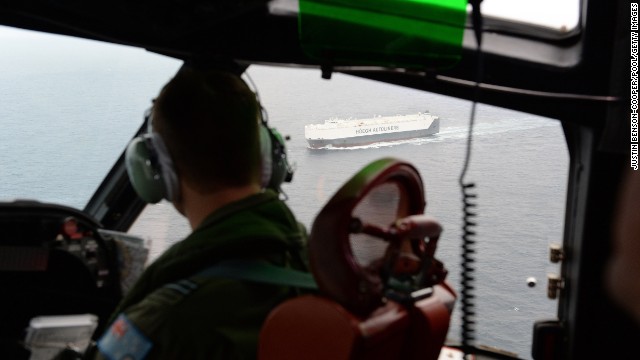 A member of the Royal Australian Air Force looks down at the Norwegian merchant ship Hoegh St. Petersburg, which is taking take part in the search for possible debris from Malaysia Airlines Flight 370 on Friday, March 21. The Malaysia Airlines jet disappeared during a March 8 flight from Kuala Lumpur to Beijing. Surveillance planes are looking for two objects spotted by satellite imagery in the remote and treacherous waters of the southern Indian Ocean more than 1,400 miles from Australia's west coast of Australia.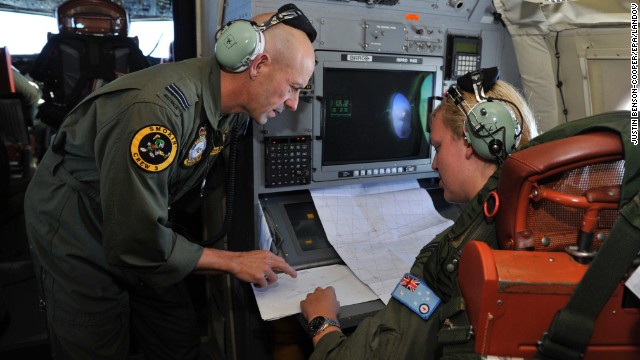 The Royal Australian Air Force's Neville Dawson, left, goes over the search area with Brittany Sharpe aboard the Royal Australian Air Force AP-3C Orion some 2,500 kilometers (about 1,500 miles) southwest of Perth, Australia, over the Indian Ocean on March 21.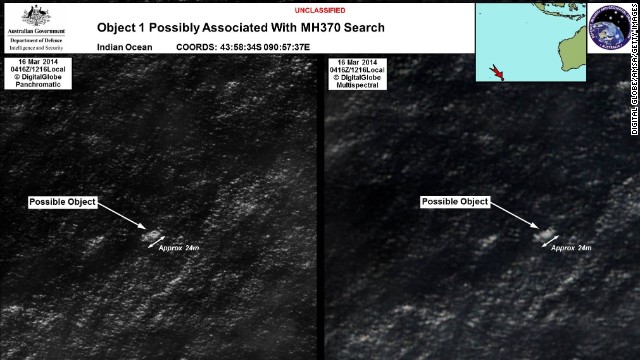 Satellite imagery provided by the Australian Maritime Safety Authority on Thursday, March 20, shows debris in the southern Indian Ocean that could be from Flight 370. The announcement by Australian officials that they had spotted something raised hopes of a breakthrough in the frustrating search.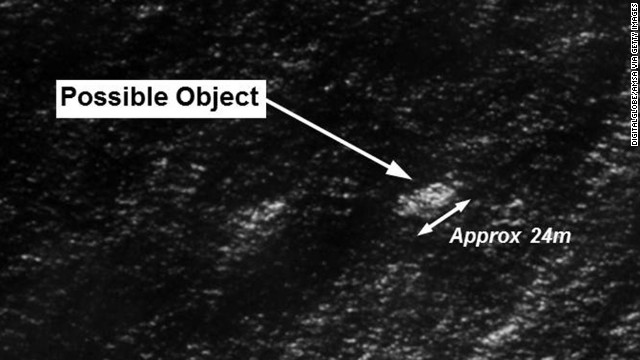 A closer look at the satellite shot of possible debris from Malaysia Airlines Flight 370.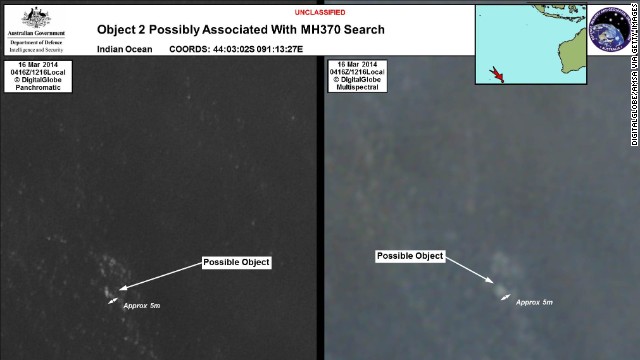 Another satellite shot provided by the Australian Maritime Safety Authority on March 20 shows possible debris from the flight.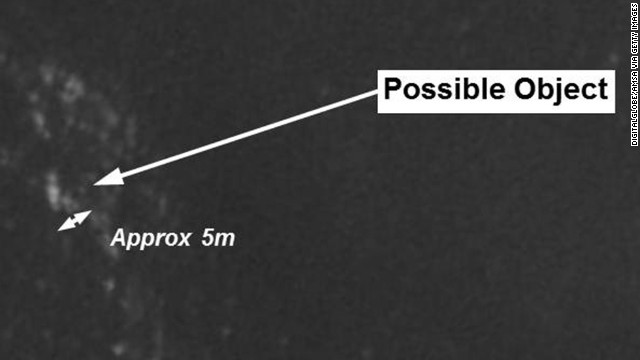 A closer look at the satellite shot of possible debris from Malaysia Airlines Flight 370.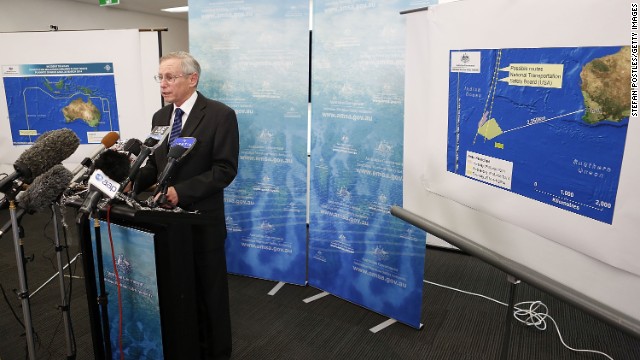 The Australian Maritime Safety Authority's John Young speaks to the media in Canberra, Australia, on March 20 about satellite imagery of objects possibly related to the search for the Malaysian Airlines flight.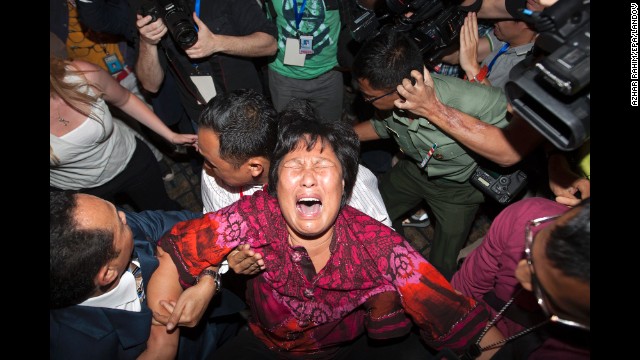 A distraught relative of a passenger on the missing Malaysia Airlines jet breaks down while talking to reporters at Kuala Lumpur International Airport in Sepang, Malaysia, on Wednesday, March 19.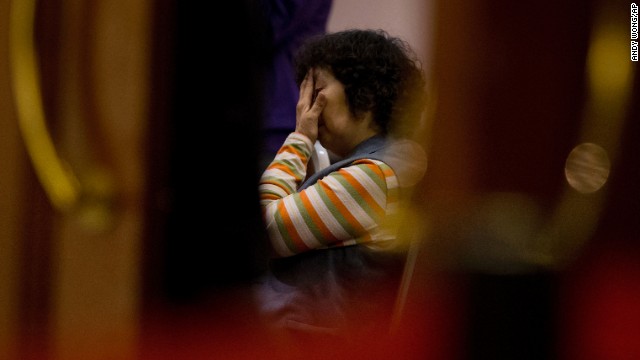 A relative of Chinese passengers aboard the missing plane waits for a news briefing by officials in Beijing on Tuesday, March 18.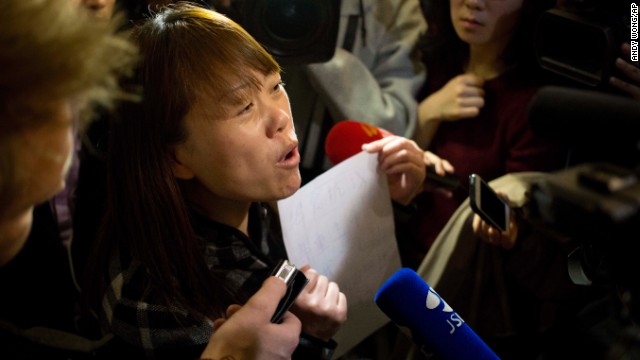 A relative of a Chinese passenger aboard Malaysia Airlines Flight 370 tells reporters in Beijing on March 18 about a hunger strike to protest authorities' handling of information about the missing jet.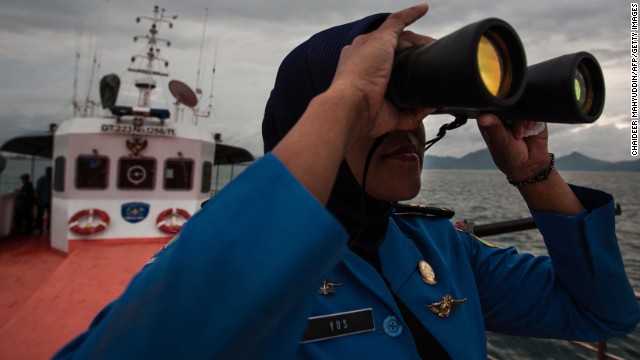 A member of Indonesia's National Search and Rescue Agency joins in a search for the missing plane in the Andaman
Sea area around the northern tip of Indonesia's Sumatra on Monday, March 17.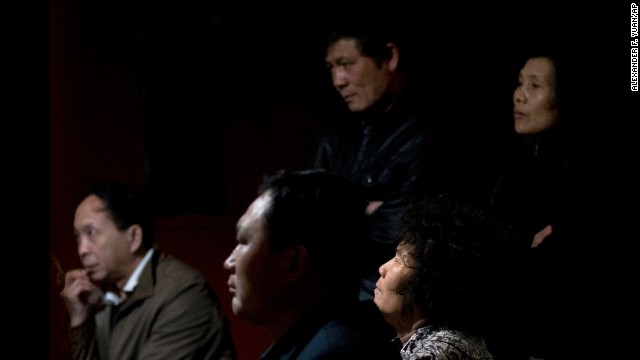 Relatives of passengers aboard Malaysia Airlines Flight 370 watch a news program about the missing plane as they await information at a hotel ballroom in Beijing on March 17.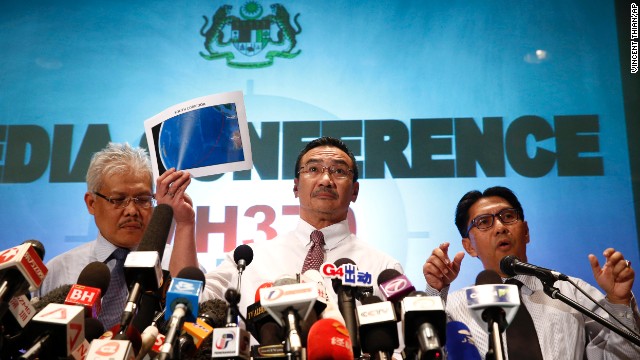 Malaysian Transportation Minister Hishamuddin Hussein, center, shows maps of the search area at a hotel next to the Kuala Lumpur International Airport on March 17.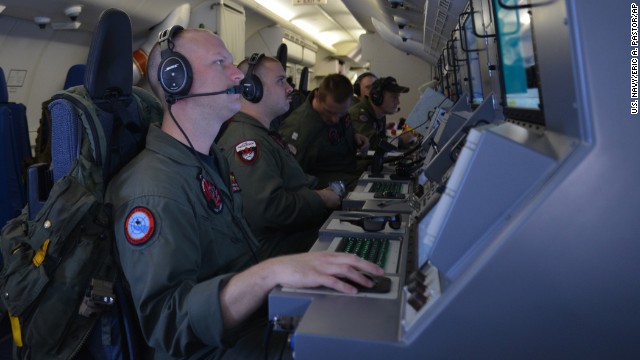 U.S. Navy crew members assist in search-and-rescue operations Sunday, March 16, in the Indian Ocean.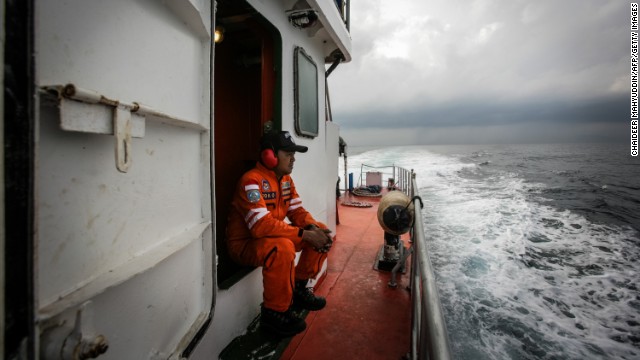 Indonesian personnel watch over high seas during a search operation in the Andaman Sea on Saturday, March 15.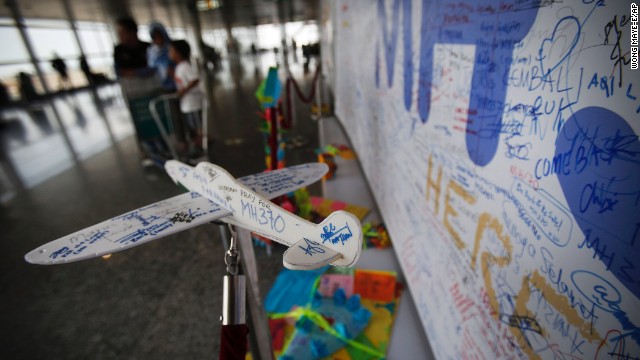 A foam plane, which has personalized messages for the missing flight's passengers, is seen at a viewing gallery March 15 at Kuala Lumpur International Airport.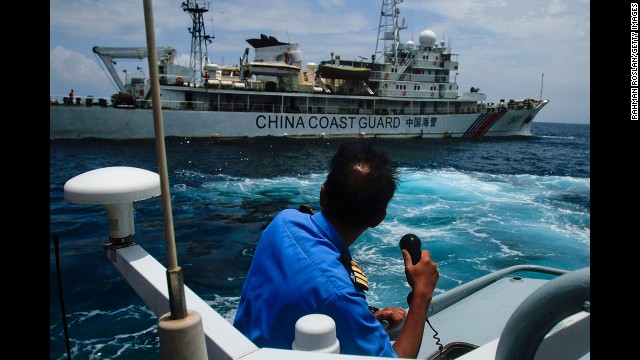 A member of the Malaysian navy makes a call as his ship approaches a Chinese coast guard ship in the South China Sea on March 15.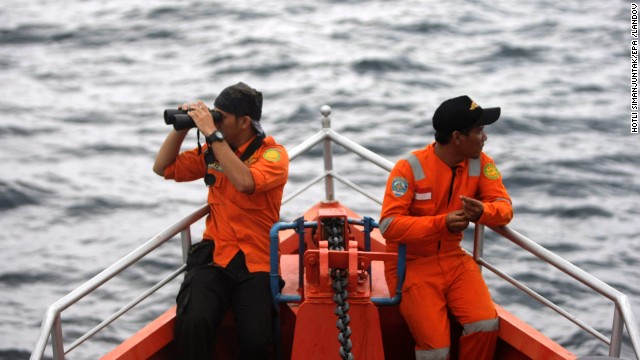 A Indonesian ship heads to the Andaman Sea during a search operation near the tip of Sumatra, Indonesia, on March 15.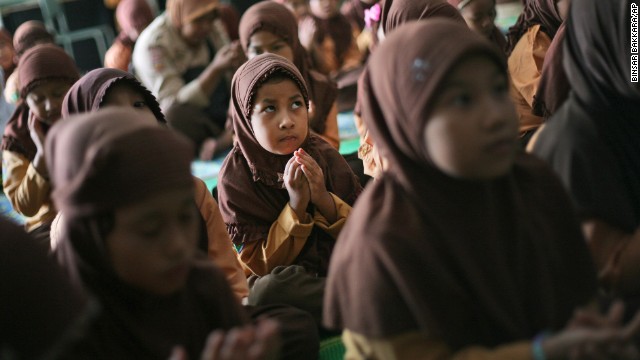 Elementary school students pray for the missing passengers during class in Medan, Indonesia, on March 15.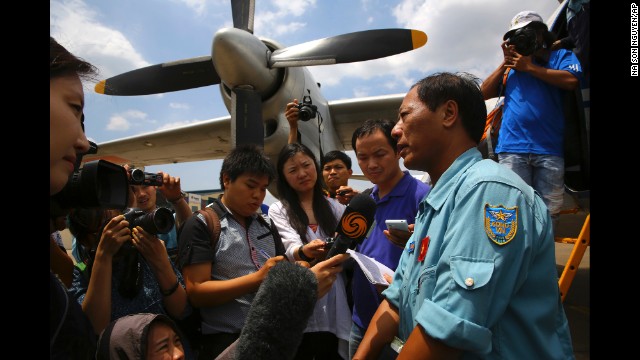 Col. Vu Duc Long of the Vietnam air force fields reporters' questions at an air base in Ho Chi Minh City, Vietnam, after a search operation on Friday, March 14.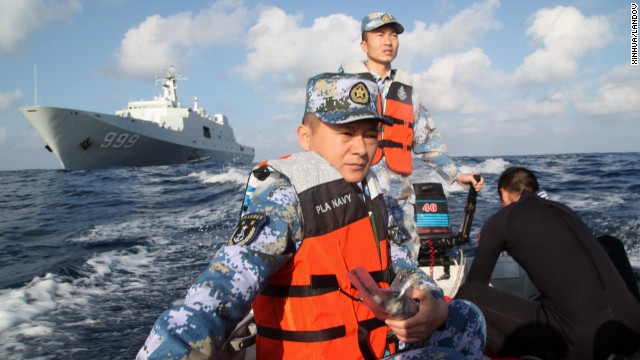 Members of the Chinese navy continue search operations on Thursday, March 13. The search area for Flight 370 has grown wider. After starting in the sea between Malaysia and Vietnam, the plane's last confirmed location, efforts are expanding west into the Indian Ocean.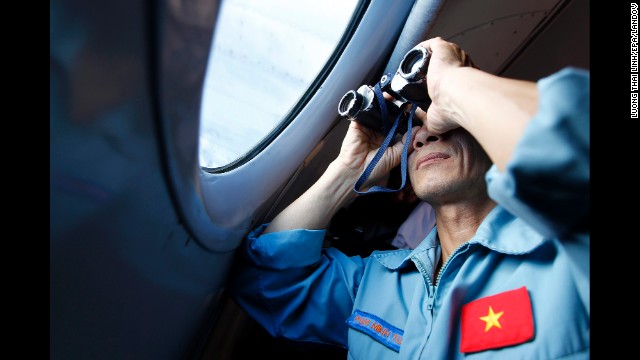 A Vietnamese military official looks out an aircraft window during search operations March 13.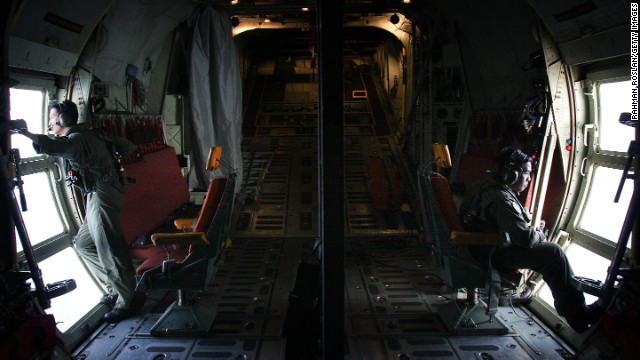 Malaysian air force members look for debris on March 13 near Kuala Lumpur.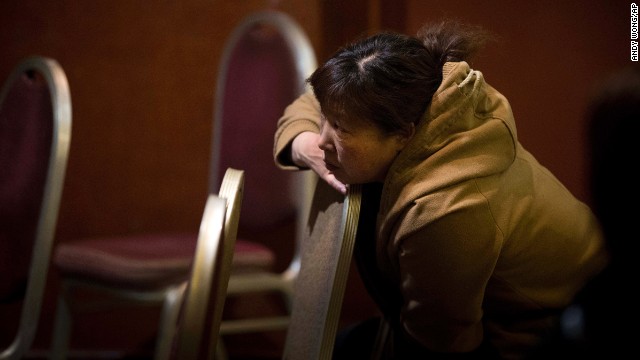 A relative of a missing passenger watches TV

at a Beijing hotel as she waits for the latest news March 13.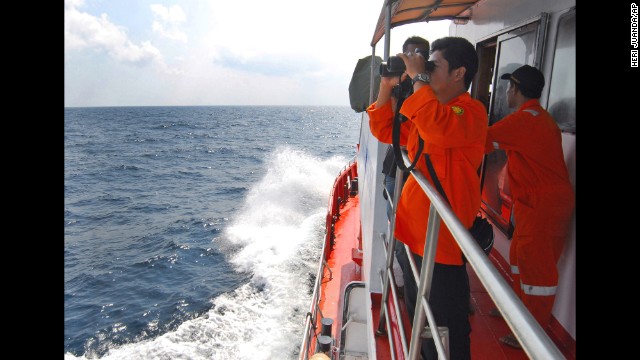 A member of the Indonesian National Search and Rescue Agency scans the horizon in the Strait of Malacca on Wednesday, March 12.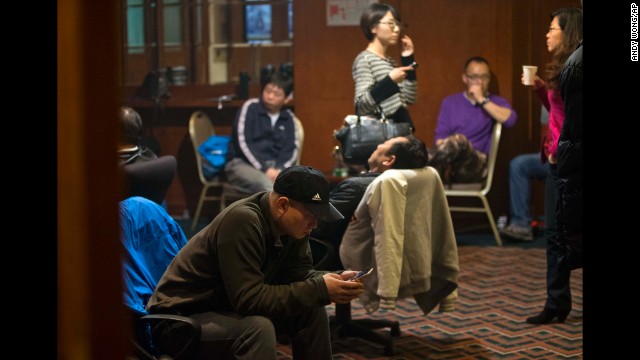 Relatives of missing passengers wait for the latest news at a hotel in Beijing on March 12.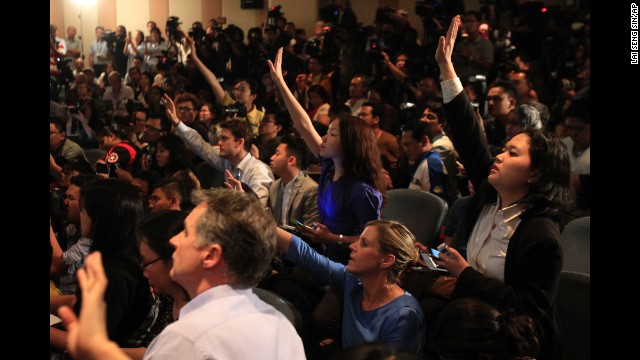 Journalists raise their hands to ask questions during a news conference in Sepang on March 12.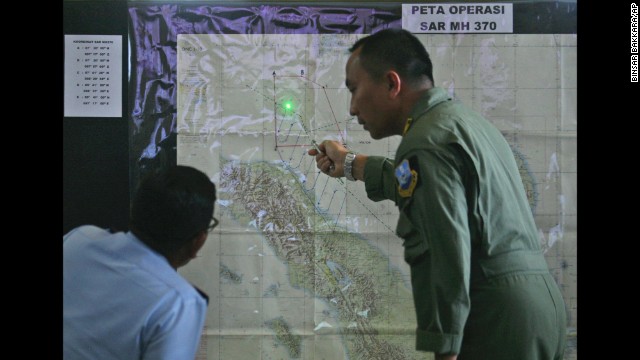 Indonesian air force officers in Medan, Indonesia, examine a map of the Strait of Malacca on March 12.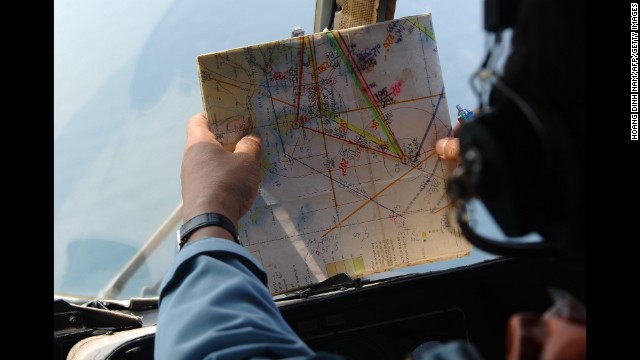 A member of the Vietnamese air force checks a map while searching for the missing plane on Tuesday, March 11.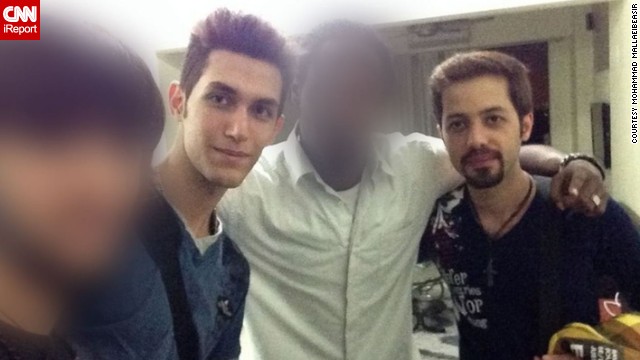 Iranians Pouri Nourmohammadi, second left, and Delavar Seyed Mohammad Reza, far right, were identified by Interpol as the two men who used stolen passports to board the flight. But there's no evidence to suggest either was connected to any terrorist organizations, according to Malaysian investigators. Malaysian police believe Nourmohammadi was trying to emigrate to Germany using the stolen Austrian passport.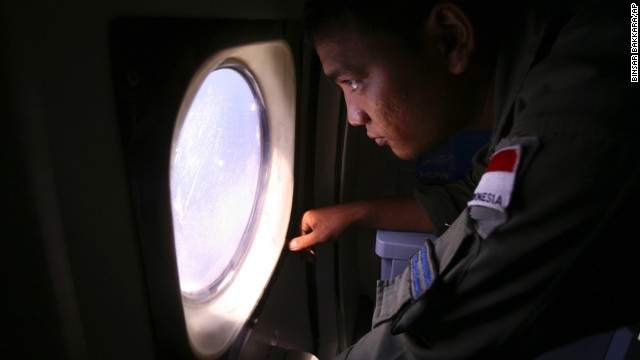 An Indonesian navy crew member scans an area of the South China Sea bordering Indonesia, Malaysia and Thailand on Monday, March 10.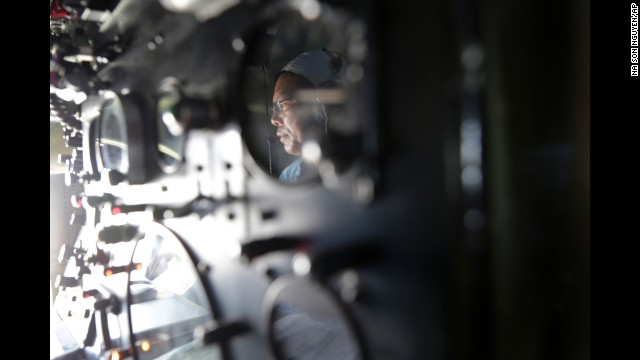 Vietnam air force Col. Le Huu Hanh is reflected on the navigation control panel of a plane that is part of the search operation over the South China Sea on March 10.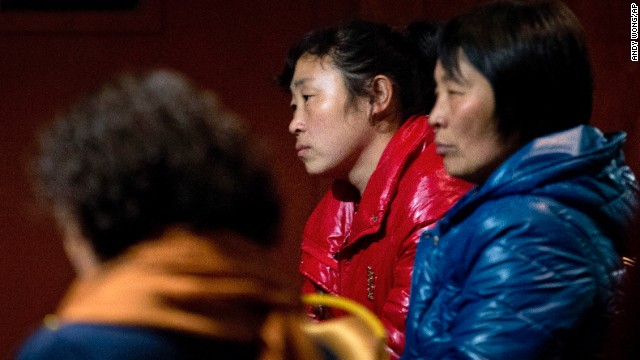 Relatives of the missing flight's passengers wait in a Beijing hotel room on March 10.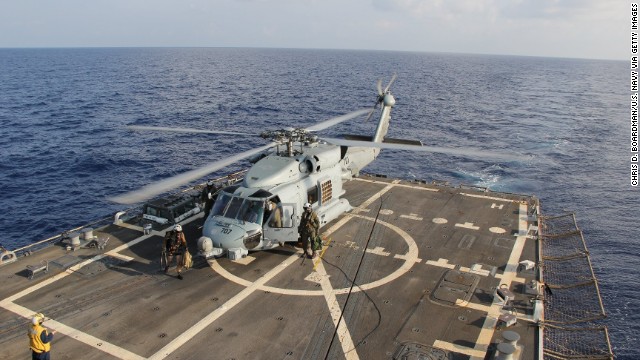 A U.S. Navy Seahawk helicopter lands aboard the USS Pinckney to change crews before returning to search for the missing plane Sunday, March 9, in the Gulf of Thailand.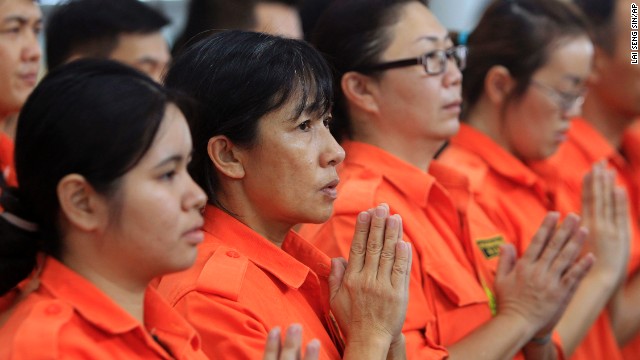 Members of the Fo Guang Shan rescue team offer a special prayer March 9 at Kuala Lumpur International Airport.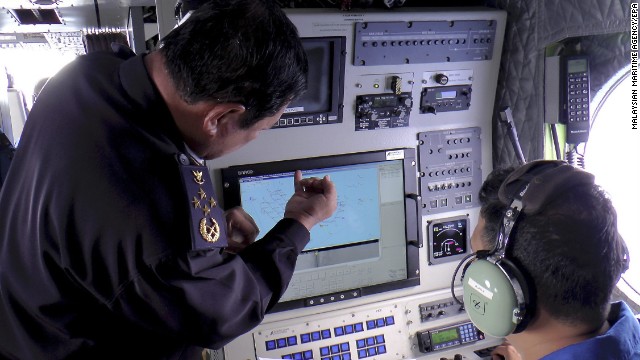 A handout picture provided by the Malaysian Maritime Enforcement Agency shows personnel checking a radar screen during search-and-rescue operations March 9.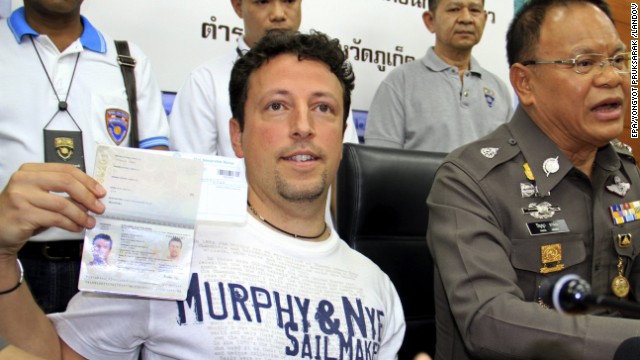 Italian tourist Luigi Maraldi, who reported his passport stolen in August, shows his current passport during a news conference at a police station in Phuket island, Thailand, on March 9. Two passengers on the missing Malaysia Airlines flight were reportedly traveling on stolen passports belonging to Maraldi and an Austrian citizen whose papers were stolen two years ago.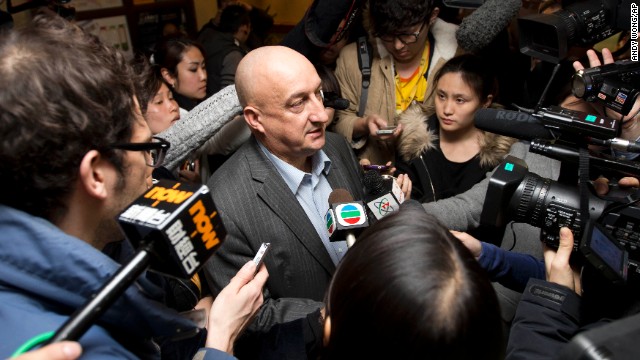 Hugh Dunleavy, commercial director of Malaysia Airlines, speaks to journalists March 9 at a Beijing hotel where relatives and friends of the missing flight's passengers are staying.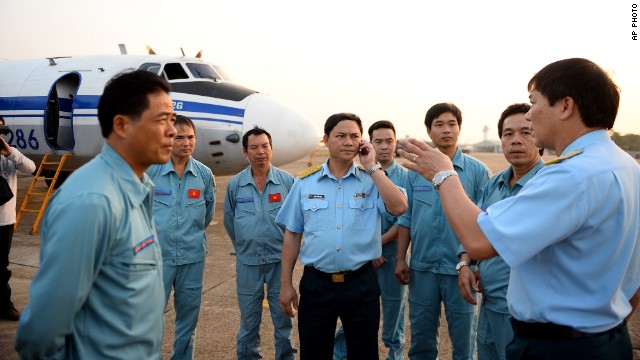 Vietnamese air force crew stand in front of a plane at Tan Son Nhat airport in Ho Chi Minh City on March 9 before heading out to the area between Vietnam and Malaysia where the airliner vanished.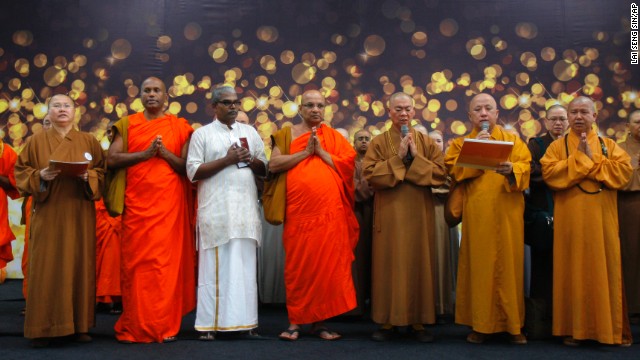 Buddhist monks at Kuala Lumpur International Airport offer a special prayer for the missing passengers on March 9.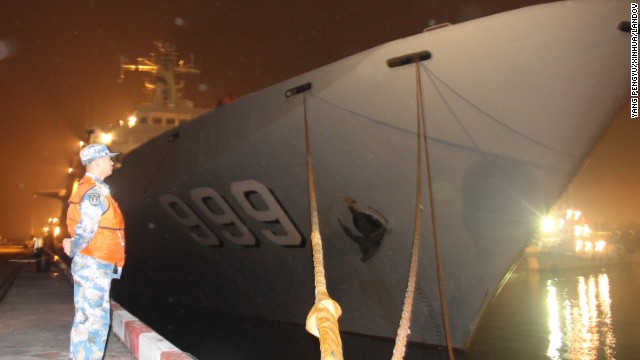 The Chinese navy warship Jinggangshan prepares to leave Zhanjiang Port early on March 9 to assist in search-and-rescue operations for the missing Malaysia Airlines flight. The Jinggangshan, an amphibious landing ship, is loaded with lifesaving equipment, underwater detection devices and supplies of oil, water and food.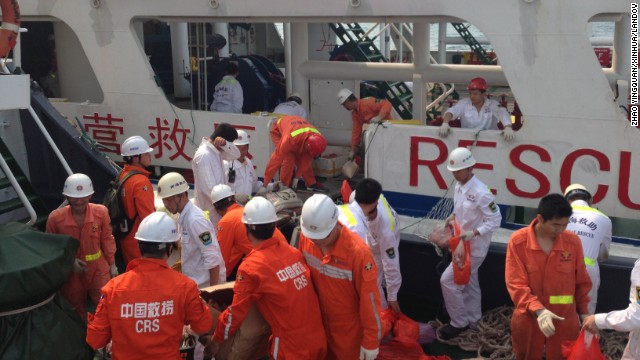 Members of a Chinese emergency response team board a rescue vessel at the port of Sanya in China's Hainan province on March 9. The vessel is carrying 12 divers and will rendezvous with another rescue vessel on its way to the area where contact was lost with Malaysia Airlines Flight 370.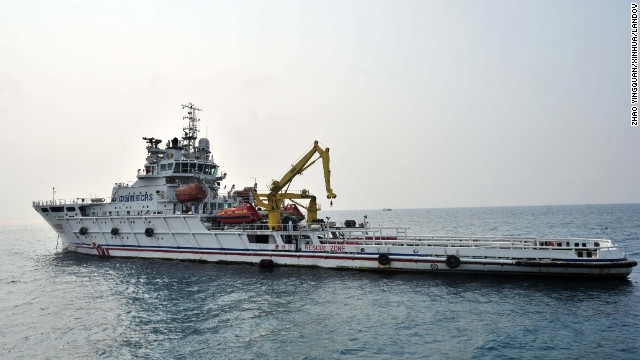 The rescue vessel sets out from Sanya in the South China Sea.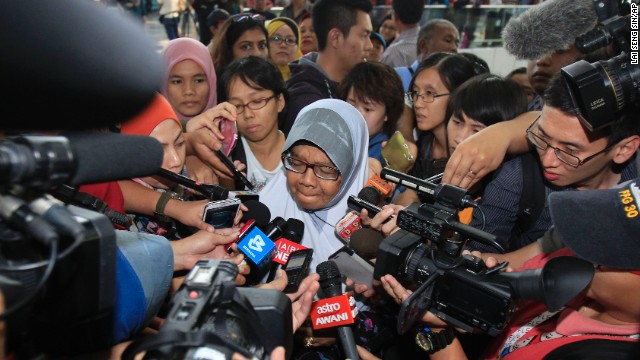 A family member of missing passengers is mobbed by journalists at Kuala Lumpur International Airport on Saturday, March 8.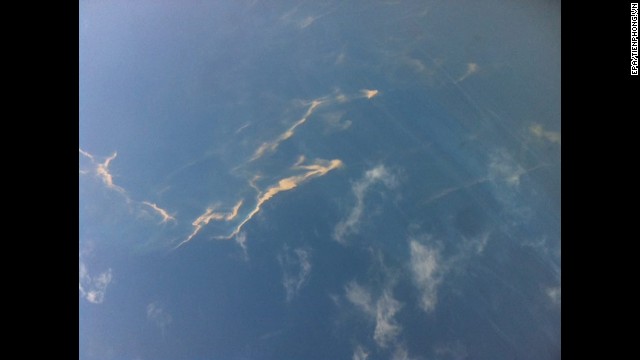 A Vietnamese air force plane found traces of oil that authorities had suspected to be from the missing Malaysia Airlines plane, the Vietnamese government online newspaper reported March 8. However, a sample from the slick showed it was bunker oil, typically used to power large cargo ships, Malaysia's state news agency, Bernama, reported on March 10.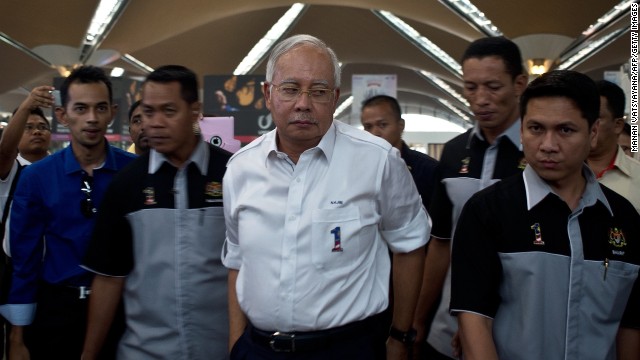 Malaysian Prime Minister Najib Razak, center, arrives to meet family members of missing passengers at the reception center at Kuala Lumpur International Airport on March 8.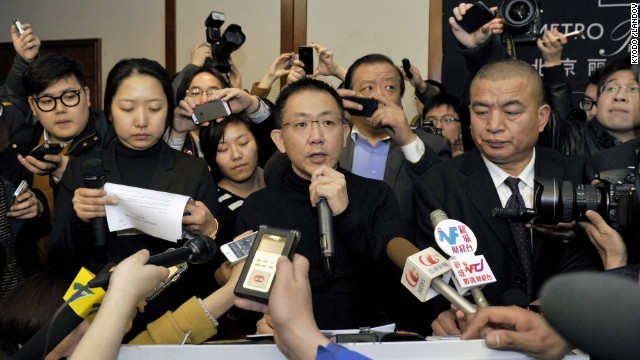 Malaysia Airlines official Joshua Law Kok Hwa, center, speaks to reporters in Beijing on March 8.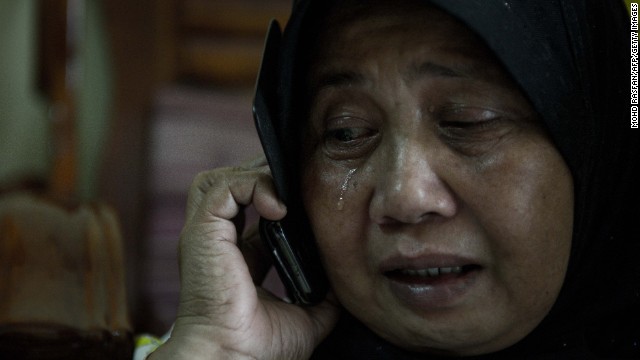 A relative of two missing passengers reacts at their home in Kuala Lumpur on March 8.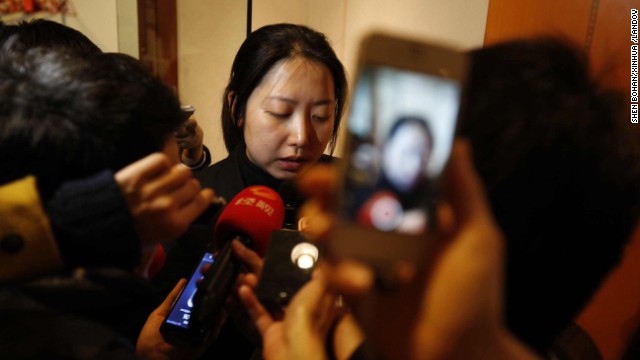 Wang Yue, director of marketing of Malaysia Airlines in China, reads a company statement during a news conference at the Metro Park Lido Hotel in Beijing on March 8.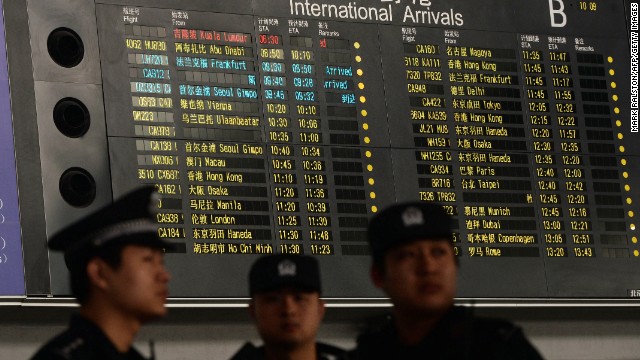 Chinese police at the Beijing airport stand beside the arrival board showing delayed Flight 370 in red on March 8.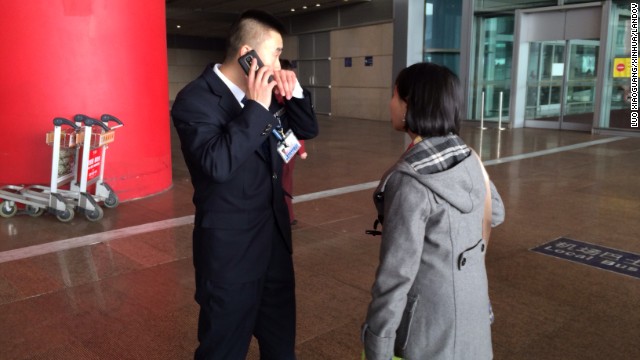 A woman asks a staff member at the Beijing airport for more information on the missing flight.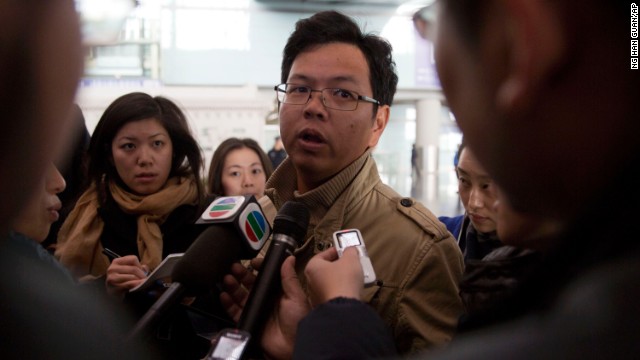 A Malaysian man who says he has relatives on board the missing plane talks to journalists at the Beijing airport on March 8.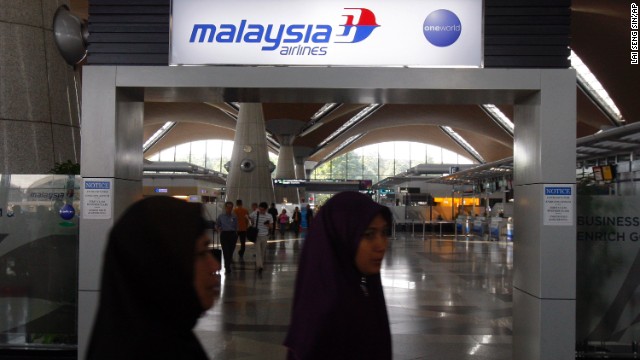 Passengers walk past a Malaysia Airlines sign on March 8 at Kuala Lumpur International Airport.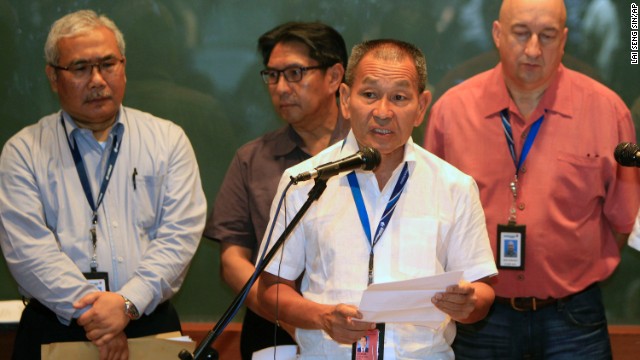 Malaysia Airlines Group CEO Ahmad Juahari Yahya, front, speaks during a news conference on March 8 at a hotel in Sepang. "We deeply regret that we have lost all contacts" with the jet, he said.


1


2


3


4


5


6


7


8


9


10


11


12


13


14


15


16


17


18


19


20


21


22


23


24


25


26


27


28


29


30


31


32


33


34


35


36


37


38


39


40


41


42


43


44


45


46


47


48


49


50


51


52


53


54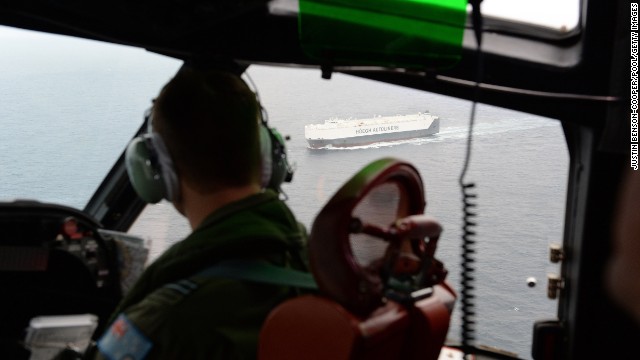 Photos: The search for Malaysia Airlines Flight 370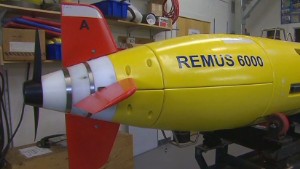 Could this ocean robot help find missing plane?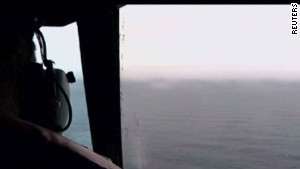 New video shows search for Flight 370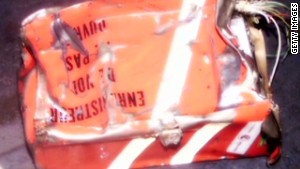 Are flight recorders too outdated?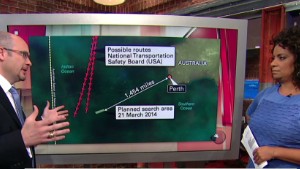 Planes and ships aiding the search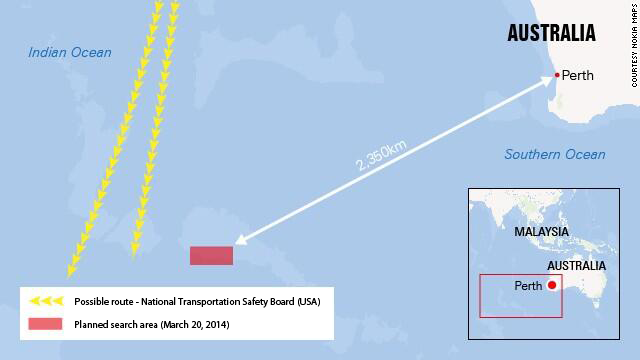 Map: The search area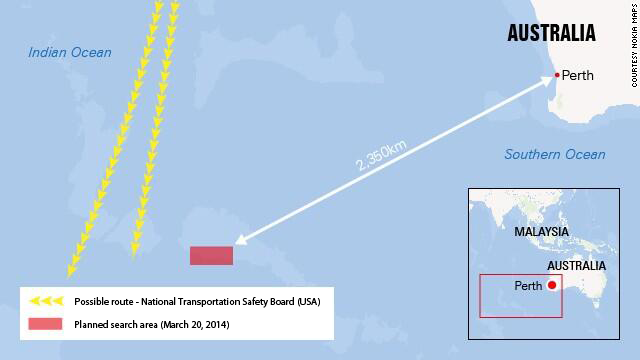 Map: The search area
The latest, most notable lead revolved around two large objects detected by satellite Sunday floating on waters over 1,400 miles off Australia's west coast.
"The fact that it's six days ago that this imagery was captured does mean that clearly what objects were there, are likely to have moved a significant different distance as a result of currents and winds," Australia's Deputy Prime Minister Warren Truss said Saturday.
"It's also possible that they've just drifted to the bottom of the ocean bed, and the ocean in this area is between 3 and 5 kilometers deep. So it's a very, very deep part of the ocean, very remote. And all that makes it particularly difficult."
Debris is a common sight in the choppy waters in that part of the ocean, he said, and includes containers that fall off ships.
Chinese and Australian military planes were among those that resumed the search for any trace of the objects Saturday morning.
Australian Prime Minister Tony Abbott on Friday defended the decision to announce the find, saying Australia owes it to families of those missing "to give them information as soon as it's to hand."
But he didn't make any promises.
"It could just be a container that has fallen off a ship," Abbott said during a visit to Papua New Guinea. "We just don't know."
On Friday, Hishammuddin Hussein, Malaysia's interim transportation minister, tried to reset expectations for a quick resolution to the mystery after the satellite discovery.
"This is going to be a long haul," he said.
Search intensifies
Weather conditions improved Friday to allow flight crews to look with their eyes rather than relying entirely on radar, said John Young, the Australian Maritime Safety Authority's emergency response manager.
"That's encouraging," he said. "But we have no sightings yet."
The United Kingdom was sending the HMS Echo to aid a growing international flotilla searching the southern Indian Ocean. Australia is sending a ship, the HMAS Success. And Malaysian and Chinese vessels — including the icebreaker Xue Long, or Snow Dragon, as reported by China's official Xinhua news agency — are steaming to join a massive Norwegian cargo ship diverted there at Australia's request.
U.S. Defense Secretary Chuck Hagel ordered the Navy and policy experts to look at the availability and usefulness of U.S. military undersea technology to try to find the plane's wreckage and its data recorders, a U.S. military official said.
Millions of dollars and counting
The United States, which has had a P-8 aircraft working out of Perth, Australia, and Navy ships involved in the search, has spent $2.5 million so far on the entire effort, Pentagon spokesman Col. Steven Warren said Friday.
NASA Administrator Charles Bolden said Friday that the U.S. space agency will mine its existing satellite data and try to capture fresh images that might aid in the search. Its satellites can detect objects as small as 30 feet (98 meters).
Global search
Countries from central Asia to Australia are also engaged in the search along an arc drawn by authorities based on satellite pings received from the plane hours after it vanished. One arc tracks the southern Indian Ocean zone that's the focus of current attention.
"We intend to continue the search until we are absolutely satisfied that further searching would be futile, and that day is not in sight," the deputy prime minister said. "We will continue the effort, we'll continue to liaise with our international allies in this search."
The other tracks over parts of Cambodia, Laos, China and into Kazakhstan. Hishammuddin said Friday that Malaysian authorities were awaiting permission from Kazakhstan's government to use the country as a staging area for the northern corridor search.
"Obviously, the search now has taken a global perspective," Hishammuddin said.
Details emerge
At Friday's daily news briefing, Malaysia Airlines CEO Ahmad Jauhari Yahya said authorities knew of news reports that the pilot, Capt. Zaharie Ahmad Shah, placed a cell phone call shortly before his plane departed.
He said they had passed the information to investigators. The significance of the call was unclear.
As to other communications, The Telegraph reported Friday it had a transcript documenting 54 minutes of back-and-forth between the cockpit and ground control from taxiing in Kuala Lumpur to the final message of "All right, good night." CNN hasn't confirmed the purported transcript is genuine, and The Telegraph said Malaysia's Prime Minister said the transcript wouldn't be officially released.
Unexplained element
The alleged transcript reported by the Telegraph contains seemingly routine conversations about which runway to use and what altitude to fly at.
One unexplained element, according to the British newspaper, is a call, in which someone in the cockpit stated that the aircraft was at a cruising altitude of 35,000 feet — something that had been done just six minutes earlier. Twelve minutes after that comes the "good night" message, at around the time Flight 370 was being transferred to Vietnam's control.
Another wrinkle: Ahmad Jauhari acknowledged the plane was carrying a cargo of lithium-ion batteries, although he didn't specify the volume of the shipment.
Lithium-ion batteries are commonly used in laptops and cell phones, and have been known to explode, although that occurs rarely.
They were implicated in the fatal crash of a UPS cargo plane in Dubai in 2010, and lithium-ion batteries used to power components on Boeing 787s were blamed for fires in those planes.
There's no evidence the batteries played a role in the plane's disappearance, and Yahya said they are routine cargo aboard aircraft.
"They are not declared dangerous goods" he said, adding that they were "some small batteries, not big batteries."
Malaysian authorities say they believe the missing plane was deliberately flown off course on its scheduled flight from Kuala Lumpur to Beijing.

Link to this story: